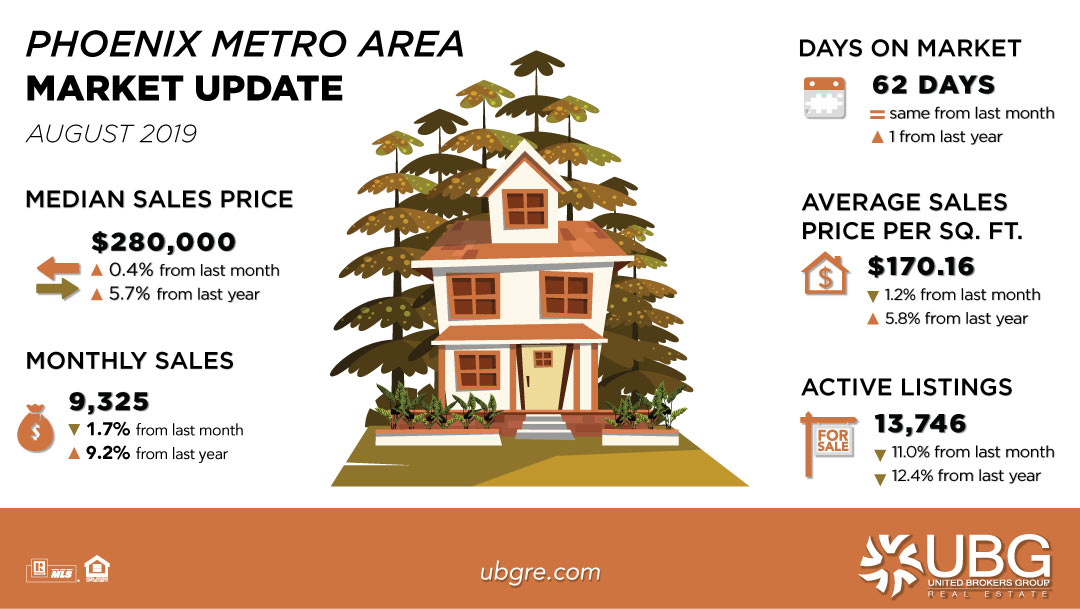 We have talked about our low inventory of homes driving a very active market, with price-segment-specific hyper-activity. In July, the number of active listings was down 8.5% from June and 4.1% year over year.
The number of active listings this month is down an additional 11% from last month! And as you would expect, the number of listings under contract is up 13.5%, further reducing available inventory.
For homes under the $400,000 price point, we are seeing frequent, multiple offers, and many zip codes in this price range are highly price competitive with very fast turns. Listings over $400,000 are less competitive, however, still very seller favorable. To compete successfully, buyers may need to up their budget or downsize their expectations.
Our median sales price for August is up 5.7% year over year, so healthy but not overheating.
Interest rates are somewhat harder to forecast but should trend flat to down. For those of you following the trade discussions with China, tariffs are ramping up and negotiations are moving slowly. The President is pressing the Fed to further lower interest rates, and reacting to a slowing world economy, the Fed cut rates by ¼ point at its last meeting. (federalreserve.gov, July 31, 2019)
"The Federal Reserve lowered its benchmark rate by a quarter point Wednesday as an insurance policy not against what's wrong with the economy now, but what could go wrong in the future. It was the first rate cut by the central bank in more than a decade." (CNBC, August 1, 2019)
Current mortgage rates are 3.6% for a 30-year conventional mortgage, with .6 points. (Freddie Mac, August 8, 2019)
Our very low inventory and falling interest rates have made the August 2019 market in Greater Phoenix an unusually active one. Buyers and sellers are encouraged to reset expectations and do their homework. Understand your specific neighborhood market using solid, comparable data, and come prepared to act as this market can move very quickly!
As always, please work with a knowledgeable REALTOR® that you trust.
Raw Data Source: ARMLS