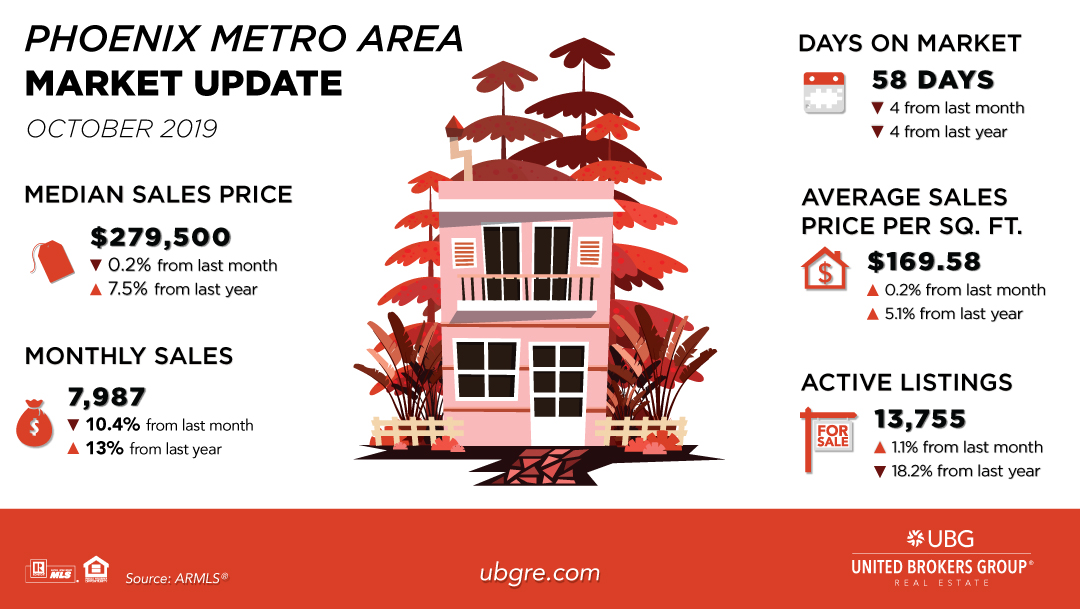 For October, the Greater Phoenix residential real estate median sales price continues to rise. However, a closer examination shows that this rise is largely attributable to the continuing shift in available inventory from lower priced to luxury homes. While available inventory for moderately priced homes continues to shrink significantly, the inventory of luxury priced homes is still very healthy.

This shrinking low-end inventory combined with the growing high-end inventory is driving much of the increase in our median price, which is up 7.5% from this time last year to $279,500 while the total number of "Active Listings" is 13,755, down 18.2% year over year.

Mortgage rates continue to be accommodative with this week's 30-year money at 3.57% with .6 points, down .08% since last week, and down 1.33% year over year (Freddie MAC 10/12/2019).

Both buyers and sellers should be aware that the rate forecasts have recently become less firm. According to the minutes of the most recent Fed meeting: "The Market may be expecting more rate cuts than the Fed will deliver, meeting minutes show." (CNBC 10/9/2019)

In the current economic and policy environment, short-term rate predictability has become less certain, and buyers and sellers might want to take this information into consideration when choosing when to buy or sell.

As always, it is recommended that both buyers and sellers do their homework before purchasing or listing property and get advice from a real estate professional you trust.