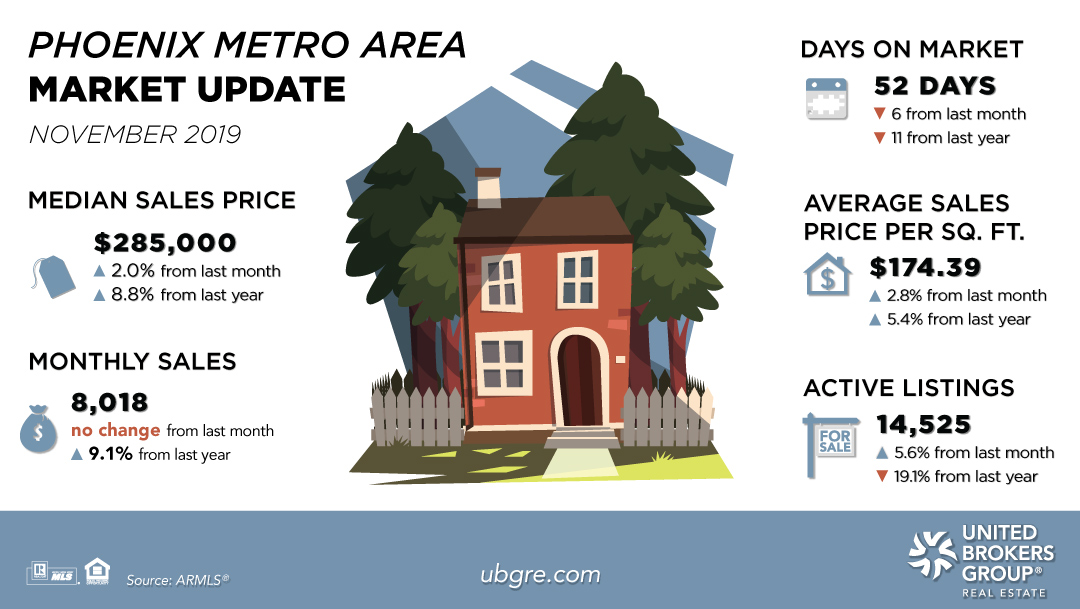 For November, the Greater Phoenix residential real estate inventory continues its downward trend, with current active listings standing at 14,525, down 19.1% year over year. Correspondingly, the median sales price continues to rise, up 8.8% year over year, and is at $285,000.

Fortunately, statistical affordability for the greater Phoenix area remains in the normal range, mostly due to very low interest rates (3.69% for 30-year money with .5 points), and healthy increases in private sector wages (up 4.5% year over year). (Cromford Report, November 2019)

Current mortgage rates (3.69% for 30-year money with .5 points) are down 1.25% year over year (Freddie MAC, November 11, 2019). The current outlook for future rate changes remains somewhat tied to resolution of the trade dispute with China, and the general continuing good health of the U.S. economy. However, current Wall Street thinking is that rates will stay in their current range, and most see little likelihood of further cuts in the Federal Funds Rate. (Freddie MAC, November 11, 2019)

Low inventory and falling interest rates will continue to make for a strong seller's market. Prices have continued to rise, and current data suggest this may well continue for some time. Buyers waiting on the sidelines to "time the rates" or hoping for a break in rising prices might want to reconsider that strategy, as any potential falling rate benefit, or possible plateau in home prices, may well not be on the horizon.

Whether buying or selling, please do your homework and come prepared to act in this rapidly moving market. Initial pricing (getting the list price right, from the beginning) and preparing your home for presentation (cleaning, de-cluttering, touching up paint) will give you a head start on your competition and drive a higher selling price for your home too.

As always, please work with a knowledgeable REALTOR® that you trust. They really can make your buying or selling process much easier and more profitable.