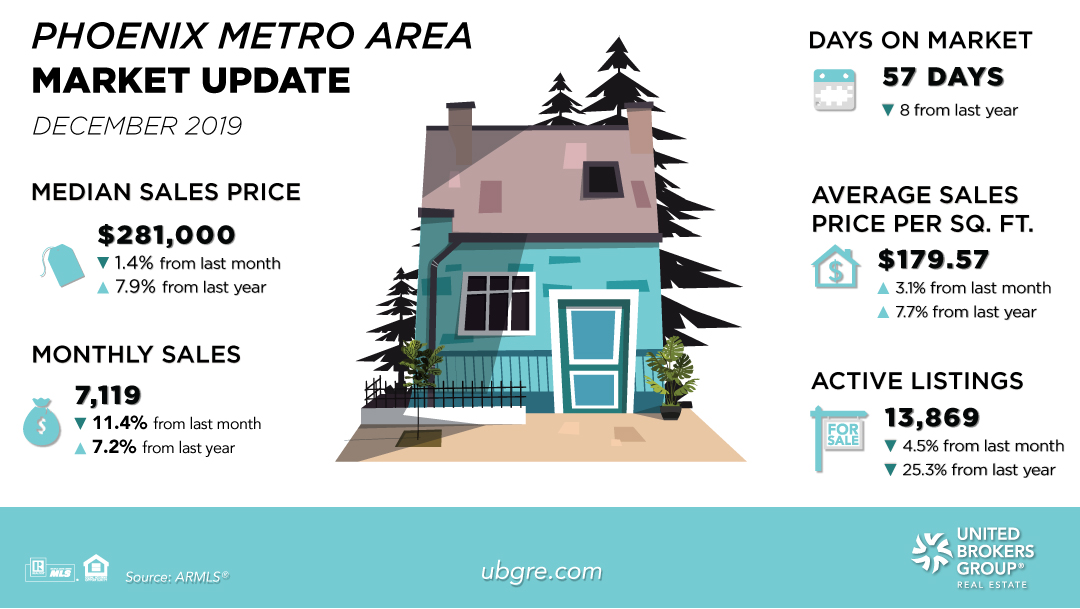 In December the greater Phoenix real estate market remains "available inventory challenged," and active listings for the month are down 25.3% year over year, at 13,869.

The low level of available units is driving higher prices, and in the case of lower-priced homes, multiple offers. Interestingly, these lower-priced homes (less than $250,000) are also the largest group that are being sold with seller help with closing costs (32% of homes below $250,000 sold with some kind of seller closing assistance) (Cromford Report, December 2019).

The mid- and luxury-priced homes are also experiencing the benefit of our very healthy real estate market, with sales of homes over $500,000 up an impressive 16.5% year to date and homes over $2 million up a whopping 21% for the same period.

As reported last month, interest rates continue to accommodate. This month's 30-year rate is 3.68% with .5 points (Freddie Mac, December 5, 2019). The current consensus among Wall Street analysts is for rates to remain stable for the foreseeable future.

For both sellers and buyers, rates should remain steady and very low by historical standards. Inventory shows little sign of growing, especially as builders are not building at the same rate as they did during previous growth periods. Both these factors mean that prices should continue their upward trend, at least in the near future.

However, and this is important, each neighborhood and price range will have its own dynamic, its own profile. As the old saying goes, all real estate is local.

To summarize…

For buyers, it does not look like prices are coming down, at least in the near future. Mortgage rates, however, will likely remain stable.

For sellers, the market looks very healthy overall, however, you might benefit from advice from an expert to better understand what your specific neighborhood's dynamic is like. The competition is still quite intense, and buyer expectations do rise with prices. If your home is less than $250,000, you may see multiple offers but will likely be asked for closing assistance. Many of your customers will be first time home buyers and your REALTOR® can help with advice and expertise.