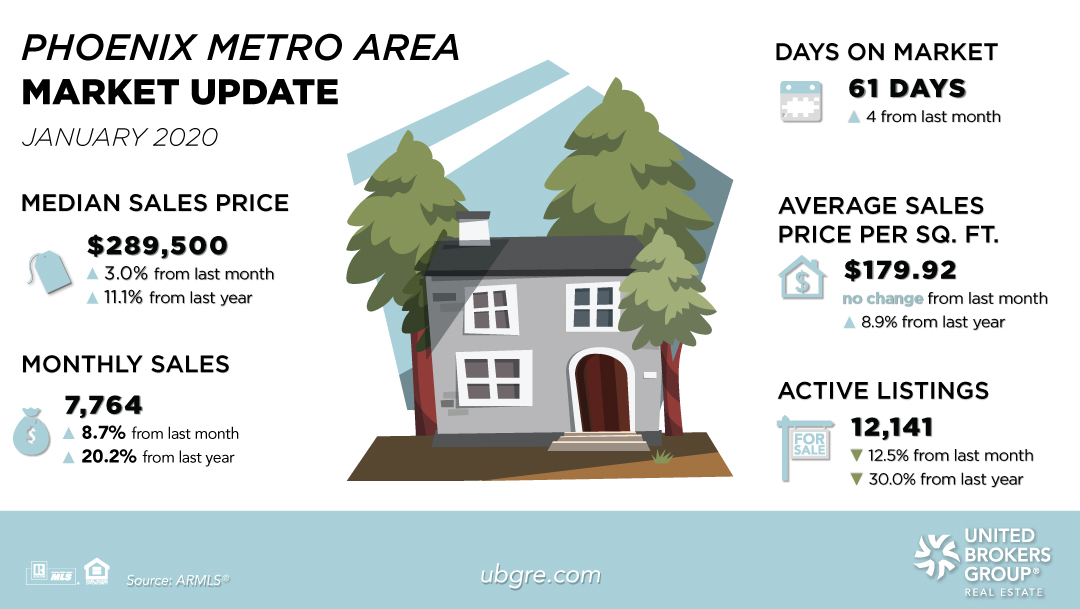 Resale home inventory in Greater Phoenix has been shrinking for many months now. Active listings stand at 12,141, down 30% year over year. January's median sales price stands at $289,500, up 11.1% year over year. Given our falling inventory, home prices are expected to continue to rise, with no signs of slowing. There are plenty of active buyers with the means to buy, driven by Phoenix's great economic environment. Job growth is strong, wages are up, and Phoenix continues to attract many relocating from other states. In fact, for 2019, Phoenix was the third fastest growing city in America. (Forbes, 2019)

Interest rates continue to accommodate with 30-year loans at 3.64% with .7 points, and the PMMS (Primary Market Mortgage Survey) is predicting flat rates for the foreseeable future and no Federal Reserve actions on the horizon. Freddie Mac, January 2020

The impact of our very chronic inventory shortage can't be overstated. The current units available, approximately 12,000 homes, is extremely low by historical standards. Historically, the active inventory for this time of year runs between approximately 28,000-30,000 homes. The last time Phoenix inventory was this low was 2005, when our inventory was about 9,000.

To summarize, sellers are firmly in the driver's seat, and buyers will have to negotiate and compete very hard to find their dream home.

As always, please work with a REALTOR® you trust. They are your best source of information and advice.