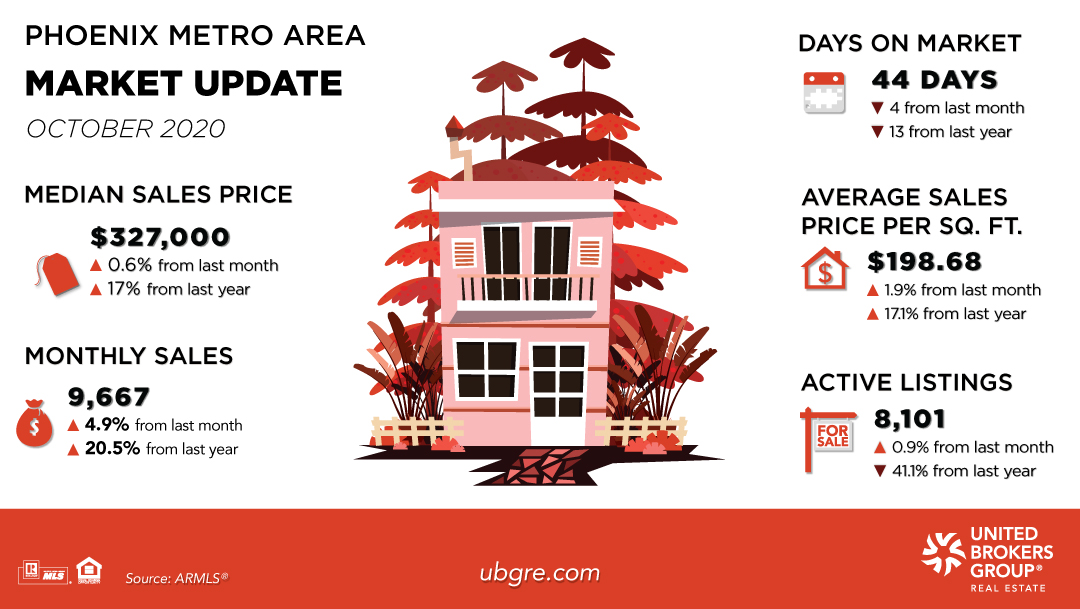 In October, the Greater Phoenix Real Estate Market remains frenetic. This is unusual for this time of year, but it is something we have gotten used to in 2020. The area's median sales price stands at $327,000, up 17% year over year. Perhaps more telling, prices are up 12% from only 4 months ago. Available listings are 8,101, down 41.1% year over year, however, the shortage this time is mostly due to our large volume of sales. Third quarter closings in greater Phoenix were the second highest in history. (Cromford Report, October 2020)

There has been little change in interest rates, which are flat at 2.87% with .8 points (Freddie Mac, October 10, 2020). This current rate profile is expected to remain the same for the foreseeable future (Federal Reserve Chairman Powell, October 2020).

Homes are still selling quickly. In the third quarter, over half the homes went from listing to under contract in 9 days or less. This is historically very, very fast.

For buyers, this means you should be prepared to move quickly on a home you like or risk losing it. For sellers, this means you should have a plan for leaving your home before you sell as your buyers will be expecting to move in immediately after closing. And it could be a very fast sale and closing!

As always, if you are buying or selling property, please work with a trusted real estate agent and loan officer. They can help you make the best real estate decisions.